LQ's Mummy's Mask
Anubis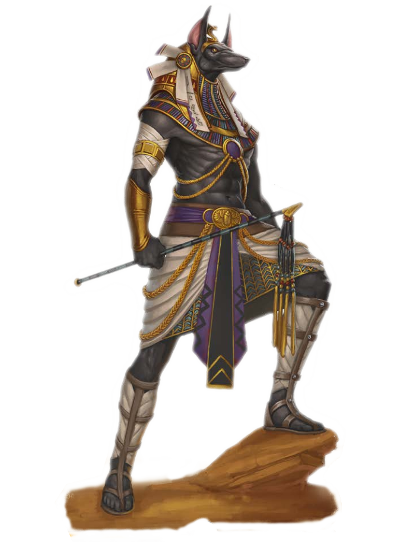 Guardian of the Tomb
God of funeral rites
Alignment LN
Domains Death, Earth, Law, Protection, Repose
Subdomains Ancestors, Defense, Inevitable, Metal, Purity, Souls
Favored Weapon flail
Centers of Worship Ancient Osirion
Nationality —-
Obedience TBD
---

Virtually every Osirian tomb contains images of the jackal-headed god Anubis, the god of mummification and protector of tombs. He presides over funerals and embalming, and guides souls to Pharasma to await their judgment in the afterlife, punishing tomb robbers and defending the dead on their journeys to the Boneyard. Anubis is the son of Osiris and Nephthys, and assisted Isis with Osiris's mummification. Like his father, Anubis frequently comes into conflict with Set, particularly regarding that god's association with undeath. As a guardian of the dead and their tombs, Anubis frequently works with Isis, Neith, Nephthys, and Selket, who protect the canopic jars containing the organs of the deceased. Anubis usually appears as a man with jet-black skin and the head of a jackal, though he sometimes takes the entire form of a jackal.
Clerics and paladins of Anubis are dedicated to destroying undead creatures wherever they find them. Anubis is the patron of embalmers, and priests and embalmers typically wear jackal masks that cover their entire heads in honor of their god. Anubis grants his followers the Death domain and Souls subdomain, but worshipers of Anubis who choose either of these adjust the granted domain spells slightly.
Those who choose the Death domain replace animate dead with speak with dead, create undead with antilife shell, and create greater undead with symbol of death. Those who choose the Souls subdomain replace animate dead with speak with dead.